24TH ANNUAL AWARDS DINNER
RUSSO'S ON THE BAY, MAY 12, 2016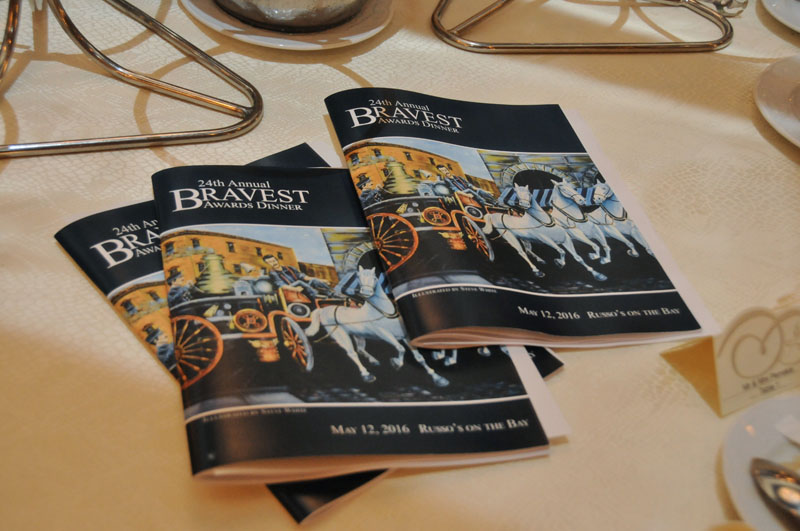 The team at Firefighters Quarterly/FDNY.NET would like to welcome you to the 24th Annual Firefighters Awards Dinner, where we take time to honor our New York City Firefighters whose heroic and unselfish actions have distinguished themselves, their fellow Firefighters, and the entire Fire Department of the City of New York. Their achievements deserve our thanks and our recognition, and it is with those purposes in mind that we established this event.
All of this evening's recipients were nominated, and chosen by Brother Firefighters. There is no greater honor than to be recognized by your peers, especially when it comes from a Brother New York City Firefighter.
A bond exists in the firehouse that is hard to describe, and we're honored here tonight to recognize those that have acted in the greatest tradition of the New York City Fire Department.
As you can imagine there are many worthy candidates, and choosing them is no simple task. Each and every day of the year remarkable acts of heroism, courage and selflessness are performed by our Bravest. The fact is they all deserve recognition, and it is that spirit and determination that we honor here this evening.
As the stories unfold, think about the fact that these scenes play out daily for members of the FDNY, and each and every one of them is willing to do whatever it takes to save the lives and property of this great city. They are now, and always have been, our first line of defense.
Over the years we have seen the FDNY take on new challenges, including the ever looming threat of terrorism.
It was a New York City Firefighter that saved hundreds of lives by recognizing the attempt of the bombing at Times Square, and no one needs to be reminded of their sacrifices on 9/11. As the FDNY transforms, there's one constant…New York City Firefighters heed the call, and the citizens of New York can rest each night because of it.
It is for those Firefighters, both with us and those departed, that we celebrate the dedication and courage of all the members of the FDNY here this evening at our Annual Firefighters Awards Dinner.
So please enjoy the festivities and have a great night!
George R. Scocca
If you know of a New York City Firefighter that should be recognized at next year's Awards Dinner,
please email a brief summary of the incident to: george@fdny.net.