ENGINE 65
2005 AWARD WINNER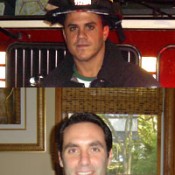 Heroism doesn't come on schedule; as a New York City firefighter, you can be called into service at any time…even when you're away from the job. On February 21st of this year, Firefighters Christopher Viola of Engine 65, and Christopher LaRocca, formerly of Engine 65, were flying to Toronto, Canada, to participate in a hockey tournament with their team, the FDNY Fire & Ice Hockey Team. For both firefighters, it was a great opportunity to take a break from firefighting as well as have some fun playing a sport that they both loved.
As they arrived in Toronto, after exiting the plane together, they both made their way towards Immigration and Customs. As they reached the top of an escalator, they came across an adult male in his 60's, lying on the floor, in distress. "It was quite obvious the man was experiencing a heart attack," wrote a female witness in her letter to the FDNY, commending their actions. Apparently, the gentleman had been experiencing some chest pains and difficulty breathing on the plane, and rather than summon EMS to the aircraft gate, a female flight attendant had decided to escort the man to a first aid station inside the terminal area. They had not made it that far, and Firefighters Viola and LaRocca now found her kneeling next to the victim, unsure what to do next.
Without hesitating, both firefighters began CPR on the victim. "When we saw the guy lying there, we didn't even think twice," says LaRocca. He immediately opened the victim's shirt and began chest compressions, while Viola began mouth-to-mouth and attempted to establish an airway. Despite attempts to use a pocket mask provided by the flight attendant, the firefighters had difficulty getting air into the victim, so they had the flight attendant use her radio to call for a portable defibrillator (AED), such as are installed in places of public assembly these days.
Both Viola and LaRocca continued CPR until the AED arrived, at which time they attached the electrodes and defibrillated the victim twice. After the second shock, the victim's pulse stabilized, and shortly thereafter Toronto EMS arrived on the scene to transport the victim – now conscious, alert, and asking for his wife – to a local hospital.
"I would like to commend and recognize two young, brave, experienced gentlemen of the FDNY," wrote the same female who witnessed the rescue. "Together they worked vigorously and quickly to save this man's life, long before medical attention arrived."
FDNY Chief of Operations Salvatore Cassano echoed her sentiment in a letter to the two firefighters: "I am proud that such members have served and continue to serve in this Department. Your dedication to serve the public is commendable. Thank you for representing the Department in such a skilled, professional manner, even while out of the country."